Water-Gate temporary flood defence system for Brabantse Delta Waterschap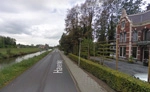 Havenweg 65
4671 BT Dinteloord, Pays-Bas
51.639833, 4.377583
| | |
| --- | --- |
| Aléa | Inondation par débordement du canal de Dinteloord – Zone inondable non protégée par la digue régionale |
| Longueur déployée | 604 m |
| Matériel | 40 barrières WL 2050 dans 3 caissons de déploiement rapide |
| Hauteur de protection | 50 cm |
| Mise en œuvre | 30′ |
| Montage | Les deux extrémités du barrage mobile se terminent hors d'eau (par élévation du terrain) |
| Lieu | Havenweg Dinteloord / NL |
Vulnerability diagnosis
Dinterloord floods directly from the Dintel river. In case of major flood the whole region is at risk: critical level in river landscape; level in Volkerak lake rises; locked closed; water in Mark-Dintel-Vliet backs up; water overflows into 'Seam'; excess water from Hollandsch Diep stored in northern tanks.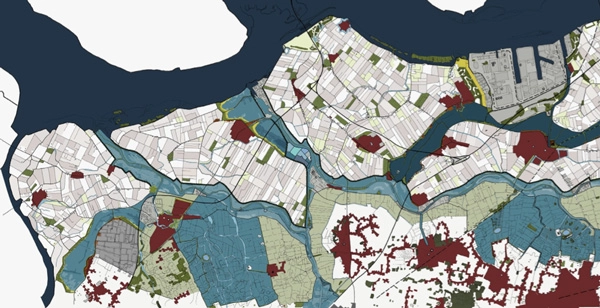 Flooding Simulation – Source www.archiprix.nl
Large sums of money are invested to reduce the hazard by structural measures (See Leevee system 34 hereafter). The main objective for these investments is to reduce the occurrence of floods: construction / modernisation of hydraulic structures (dams, weirs, sluices), slowing down the runoff…
Floods result from a "natural" hydrological event that can sometimes be mitigated (construction of protective structures), but the risk of flooding remains.
It is widely accepted that any flood defence plan should complement these structural actions with measures to reduce the vulnerability of people and property.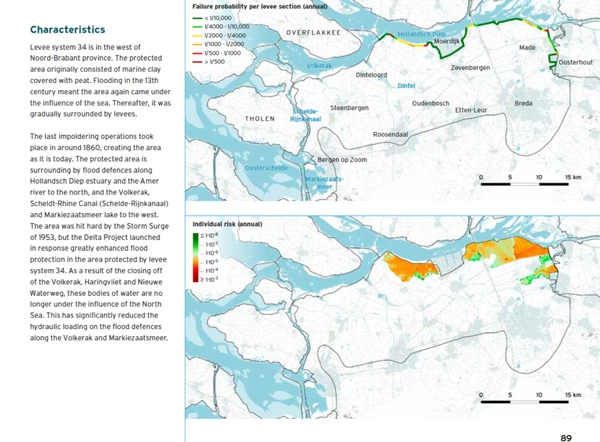 Taken from the National Flood Risk Analysis for the Netherlands – 2015
The municipality of Steenbergen is protected by the Primaire Waterkeringen (red line on the following picture) and the Regionale Waterkeringen (green line).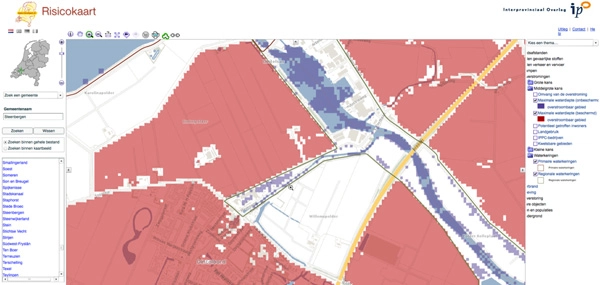 Steenbergen Risicokaart – Medium Probability
The Risicokaart shows that in medium probalility, the area is protected with the exception of the Dintel River Banks and the Havenweg.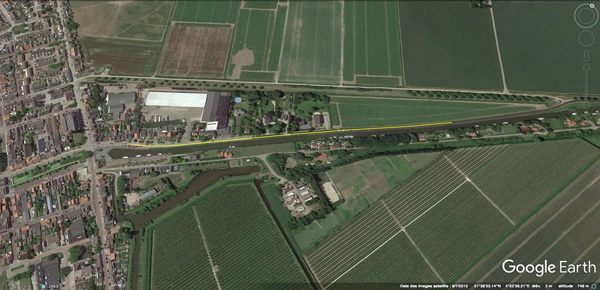 Water-Gate Simulation Protection – 604 m on Havenweg
Water-Gate flood protection system perfectly fits this kind of situation. It will reduce the vulnerability of all the houses and buildings in case of rising water of the River Dintel at High Water Marks.
Recommended Flood Protection Device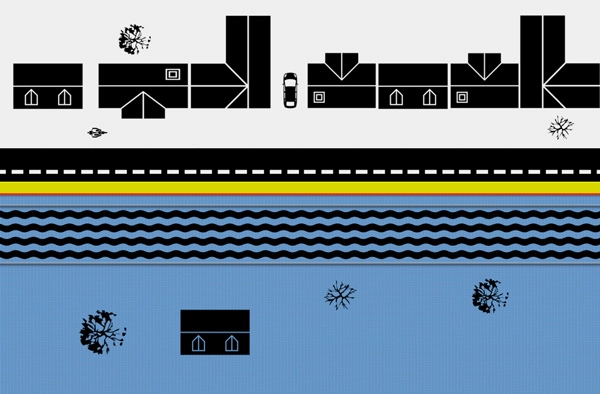 The recommended device is composed of 604 m Water-Gate© anti flood flexible dams, 50 cm high, ready to deploy and packed in 3 fast deployment containers. Using a forklift or trailer and only 3 people, the entire protection will be deployed in less than 20 minutes!
The versatility of Water-Gate© allows installation on any terrain and in the desired path. The dam conforms to the shape of urban obstacles: sidewalks, pavement, and walls… All Water-Gate© dams can be attached together, regardless of their height, by means of integrated Velcro straps.
The protection can therefore easily be:
– Divided by multiples of 15.2m (15.2 m = the length of one barrier WL 2050).
– Lengthened in the case of subsequent purchases, whatever the Water-Gate© model chosen.
The "vehicles crossing" possibility allows vehicles to cross the barrier up to 20 cm of water.